FRP Joint Ladder
Donghai

Henan, China

15-20days

500 tons/month
1. The overall structure adopts modular building design, which is easy and quick to disassemble.
2. Parts standard, no need to use any tools, can be disassembled by hand, simple and convenient
3. Combination diversity, can adapt to any venue environment, can be customized according to customer requirements
FRP Joint Ladder
Specific can be customized according to customer requirements.
FRP joint ladder, made of FRP pultruded profiles made by unsaturated polyester resin or epoxy resin pultrusion process, is a special climbing tool for power supply engineering, telecommunication engineering, electrical engineering, hydropower engineering, etc. It is easy to operate and easy to use. Good quality and excellent price are the choices for electrician's live operation. Among them, our insulated joint ladder has two folding and three folding (M type) and other folding joint ladders, which can be more choices for users. Insulated joint ladder adopts the eight-character structure overall trapezoid according to the principle of physical inertia moment, which is beautiful and elegant, stable and durable. Insulated joint ladders are not necessarily all eight-character structures. There are parallel structures and M-shaped structures depending on the length and specifications. The form is versatile and easy to use.
The company's products support customization.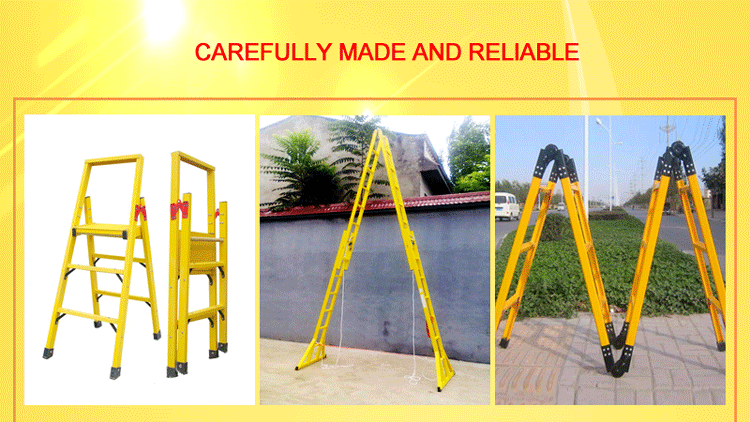 The Characteristics Of The Insulation Ladder
1. Non-conductive, novel appearance, beautiful appearance;
2. Corrosion resistance (corrosion resistance of many gas and liquid media such as acid resistance, alkali resistance, organic solvent resistance and salt resistance. According to the requirements of actual use, it is economical to choose the use of o-benzene type, meta-benzene type, vinyl type resin. Made of base material), resistant to decay, and resistant to fading;
3. Light weight and convenient to carry;
4. Low water absorption and good flame retardancy (normal flame retardant grid flame propagation rate (ASTM E-84) does not exceed 25; high flame retardant vinyl grid flame propagation rate does not exceed 10. Oxygen index is not less than 28 (GB 8924));
5. High strength, light weight (the density of FRP grating is not more than 2, only 1/4 of steel, 2/3 of aluminum. Its strength is 10 times that of rigid PVC, absolute strength exceeds aluminum and ordinary Steel horizontal insulation ladder), excellent in impact resistance, insulation and magnetic permeability.
Factory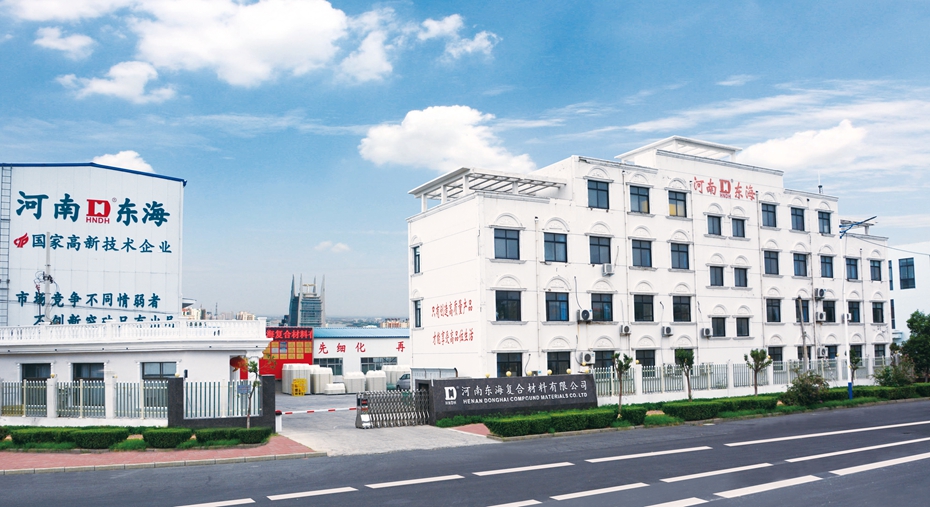 Since its establishment in 1999, Henan Donghai Composite Materials Co., Ltd. has grown stronger with the joint efforts of all employees, and has strong technical strength and complete quality assurance system. In 2005, it passed the ISO9001:2000 quality management system certification. In 2006, it passed the ISO14001:2004 environmental management system certification. In 2016, it passed the OHSAS18001:2007 occupational health and safety management system certification. In 2016, it passed the TS16949 automotive industry quality management certification and China Railway. Inspection and Certification Center CRCC certification. In 2016, he won the "Director Quality Award" of the National Xinxiang Economic and Technological Development Zone. In 2017, it passed the national high-tech enterprise.
The company's business philosophy: first do honest people, and then do the job.
The company's core values: Only high-quality products can be produced to enjoy a high-quality life.
Certificates

Quality Inspection

Production Line

Other Product Display


FAQ

1. Are You a Manufacturer or Trading Company?
With our own factory, we can offer high quality at the most reasonable price.
2. How is the price calculated?
It depends on what the square meter/thickness/core materials you required.
3.what's your delivery time?
15days after we receive the deposit mainly depends on quantity.
4. Is sample free?
Yes, we provide a free sample but the freight charge should be responsible for the buyer.